Digital Books: So Many (Free) Ways to Read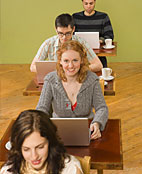 An orientation to this dizzying world for everyone
Digital books are the digital media equivalent of conventional printed books. They can be audio recordings read by human voices, digital versions of print (eBooks), or versions with interactive content like hyperlinks to the internet or embedded video.
Digital books are for everyone, but are powerful solutions for individuals with print disabilities. Indeed, digital files combined with assistive technology are making school curricula accessible to more and more students (including students with learning disabilities and physical disabilities). It's why when the nation's special education law (
IDEA
) was reauthorized in 2004, the provision of "accessible instructional materials" (AIM) was a critical addition.
Unfortunately the world of digital books is pretty confusing. It's currently made up of a dizzying number of devices, file types and formats, software and apps. To help, below is a way to get oriented. Whether you have a print disability, enjoy audio book recordings, are considering purchasing an eBook reader, or know a student who might benefit by a non-print format, the following overview of free (mostly) digital book sources can help point your way. Attention is paid to who each serves, what is generally provided, and how the books are commonly enjoyed.
Public Library Digital Book Sources:
National Library Service for the Blind and Physically Handicapped (NLS) BARD: Braille and Audio Reading Download site
Who it serves: borrowers in the U.S. (or citizens living abroad) who are blind or have another eligible print disability.
What is provided
: leisure material as audio recordings or Braille files, each formatted for easy navigation and bookmarking (according to the
DAISY
standard). Over 18,000 digital book files (and papers and magazines) available for download. (Note: those without internet access can use the NLS via postage-free mail.) These are high-quality human-voice recordings.
Devices that work: specialized (DAISY) players including the Victor Reader Stream and BookSense; Braille devices include PacMate, BrailleSense, BrailleNote notetakers, and computers with translation software like Duxbury Braille Translation. Note: NLS audio files cannot be read on a computer or mainstream mobile devices (like MP3 players).
Considerations: NLS does not have every book. Also, to use on your own device, a special key from NLS is required to unlock the files which are encrypted.

No internet access or device?
The National Library Service
also mails Digital Talking Book cartridges (DAISY formatted for easy navigation) and their own DAISY players (Digital Talking Book Machine), so an internet connection and a device are not required to borrow NLS digital books.
Overdrive Media
is a digital book source for the mainstream. Overdrive partners with 66% of public libraries (in 2010) to provide digital book downloads to patrons.
Search for participating libraries
.
What is provided: leisure material as audio recordings (WMA, MP3) and/or text digital files (ePub). The audio files are high-quality human voice recordings with easy navigation. Overdrive is not a direct source for Braille or Digital Talking Books (text with synched audio), but see LEAP below.
Devices that work: Files play with most computers and may be transferred to mainstream mobile devices (including iPod/Pad/Phone) and eReaders. Requires download of Overdrive Media Console (free software) and iTunes. Some Kindle compatible files are now provided by most libraries. (Note: Kindle does not work with adobe ePub files.)
Considerations: Access to the site requires a pin code from your participating library (may be on your library card). Files expire on your computer after 1-2 week loan periods and waiting lists are common. Limited selection.
Who is served: individuals with qualifying disabilities who are patrons of public libraries that offer Overdrive Media.
What Bookshare provides: Braille-ready and text digital formats with easy navigation (DAISY). These are not human voice recordings, but computer voices made possible by text-to-speech software. Bookshare has 70,000+ books, including bestsellers, magazines, newspapers, and text books. The membership provides 20 downloads per month for 12 months, and free Victor Reader Soft and Read:OutLoud reading software for installation on a home computer (with sophisticated notetaking and navigation features). Especially useful for individuals who benefit by reading with audio synched to highlighting text.
Devices that work: most computers, specialized mobile (DAISY) devices (including Braille), mainstream MP3 players, scan and read software, and Braille printers. No key necessary to access using your own device. Works on iPod/Pad/Phone with the Read2Go app ($19.99).
Considerations: after one year, an annual individual membership to Bookshare is $50.00 (although students with qualifying print disabilities are free through their schools, see below). New titles take time for conversion and are not immediately available.
Specialized Student Digital Book Sources:
Note: federal law requires schools to provide timely access to accessible instructional materials to students with disabilities who may benefit. Read about NIMAS.
Bookshare
: this is a huge library of text digital files for individuals with verified reading disabilities (visual, physical, and learning disabilities). Free to qualifying students thanks to a grant from the U.S. Dept. of Education Office of Special Education Programs. Read about Bookshare above at LEAP.
Learning Ally
: formerly Recordings for the Blind and Dyslexic.

Who is served
: students with verified reading disabilities (schools purchase memberships). Eligible individuals and families may purchase memberships with unlimited access for $99/year (for use at both home and school). Learning Ally's local office can provide information on state-funded memberships for Massachusetts school districts. To find out if your district has signed up for a membership, see
Learning Ally's Massachusetts site
.
What is provided: recordings of human voices formatted for easy navigation (WMA files) as well as digital books (DAISY formatted text digital files) for use with text-to-speech software. Not a source for Braille. 65,000 downloadable titles in all curriculum areas in K-12 education. The free ReadHear software for computer access to DAISY files is compatible with screen readers, and includes display, notetaking, navigation, and bookmarking features. Especially useful for individuals who benefit by reading with audio synched to highlighting text.
Devices that work: most computers (with free software download), specialized mobile (DAISY) audio devices, mainstream MP3 players. Works on iPod/Pad/Phone with the RFBD Audio app ($19.99).
Considerations: limited textbooks. A key is necessary to access encrypted files if using your own device. Downloading files can be confusing.
Mainstream Digital Book Resources:
Google Books
: millions of digital books

What is provided: Google provides digital books in several different ways, but is not a source for audio recordings: 1. You can download text digital files (ePub) for use with mainstream readers (all except Kindle) or mobile devices (with free Google Books apps), 2. download a PDF file of scanned books (actual images of printed pages), or 3) read books off the Web using your browser (and download nothing).
What about screen readers or text-to-speech?
Screen readers work with Google Books only if the book is available in "full view." These include all titles in the public domain: about a million free classics. If a Google Book is available in full view, click the "plain text" link at the top navigation of the Google Books page to access a version compatible with text-to-speech and screen readers (works with free
NaturalReader
). Note: you can filter your Google Books search results to only display full view books, making it easier to find compatible content. Also note: iPhone/iPad users can take advantage of their device's VoiceOver feature for use with Google eBooks and access more than just public domain or "full view" content. Read about it at this
abledbody blog post
.
Project Gutenberg:
this is another source for free ebooks (36,000) in the public domain. Files for Kindle are provided here along with other devices (ePub, HTML, and simple text formats).
Librivox
: this is a source of free audio recordings of books in the public domain (read by volunteers). MP3 files can be played on mainstream mobile devices and computers but do not provide bookmarking.
Digital Book Index:
this is a meta-index of digital books providing links to more than 165,000 full-text digital books from more than 1800 commercial and non-commercial publishers, universities, and various private sites. Over 140,000 books, texts, and documents are available free. File formats vary by source, but there is some availability for most mainstream devices (including iPad, Kindle, and Nook).
Happy reading!
Thanks to Catherine Bly and Kobena Bonney for contributing their expertise for this article.
Igniting Student Writing with Storybird

One tech-savvy parent's just-in-time classroom intervention

Last year my second-grader was learning to hate writing. "It's the worst part of the day," he'd say. "I can never think of anything to write about!"

His teacher, it turned out, used no prompts and fiction was outlawed. ("Their plots are too messy at this age" she told me.) Writing periods were spent practicing the structure of a paragraph among other prescriptive tasks.


Back in graduate school, I'd had the opportunity to teach high-schoolers a summer course I called "Writing with Passion for School and for Yourself." Now I was wondering how I could also show my son that writing is satisfying, nourishing and essential. How could I show his class? (After all, I'm a writer not an educator.)

At an AT Advisory Council meeting in December, I took the opportunity to share my woes with Karen Janowski. Janowski is an educational technology and AT specialist working with public schools in Massachusetts (see "ReThinking: Assignment Notebooks" this edition). I told Janowski about my son, how he receives reading room support and hates writing so much he gets angry with waitresses who bring him crayons.

She recommended trialing Storybird.com, a free online storytelling program. Storybird allows users to create gorgeous picture books by selecting graphics by participating artists, and writing accompanying text. The site is durable for young students; once logged in, student projects are automatically saved as they work. Once a book is finished, the project may be published online and/or ordered in hard copy.

Back at my son's school (in Vermont), a group of parents and I decided to tackle integrating Storybird into his class of 20 first- and second-graders. For guidance I enlisted the support of the reading specialist (she met with me on her own time and attended class when she could manage it). To get into the weekly schedule, I took over the class computer lab (unstructured time used solely for learning the keyboard and playing games). And to motivate the kids, I got a grant from the PTO to buy one soft-cover copy of each student's book for them as a keepsake.

My Goals:
To give the students a writing project that was completely theirs.
To envision themselves as published authors (elevate their task and sense-of-self).
To introduce them to the elements of a story (concepts of plot, character, and setting--part of the state standards).
To provide motivation for learning basic word processing skills and sentence construction.
To model my own love of writing.
To have fun.
Nuts and Bolts:

To introduce the unit, I showed them a Storybird I wrote (above) which incorporated some of their first names to get them excited. (Here is the Google Doc slide presentation I used to guide them on that first day. Be sure to click on the speaker notes).
To ensure enough time, including time to learn and play with the Web site, we met weekly for over four months of the school year.
The first set of weeks was spent writing individual stories; the last half we spent in small groups on collaborative works (adult facilitated!)
Collaborative stories were shared in a final wrap-up celebration using a SMART Board.
At the end of the school year, the students chose which stories they wanted the PTO to purchase (their individual or their group project).
The Devil in the Details:

4 adults helped in computer lab each week.
I pre-registered each student at home to create simple user names and passwords.
I used a projected screen to help guide them through log-in and tools.
To maximize class time, eventually we learned to arrive early to pre-log them in, choosing who would sit where for a quieter classroom (it worked!)
We came up with some parameters: no project could be over 20 pages, and words must accompany every page.
One parent made colorful, paper "choosing hats" for drawing names when conflicts in small groups needed resolving.
Storybird updates were sent home to parents including login instructions for home access.
Outcomes:

Initial grumbling about lost free computer lab time vanished by the second week.
A mid-session show of hands revealed 50% of the classroom was working on Storybird at home, writing on their own free time (and not always the students we would have predicted!)
Logging in, I found that older siblings had also created stories or collaborated with younger siblings to get in on the action!
The first-grader on the autism spectrum enjoyed sequencing pictures and thrived contributing during group work (he was assigned to the reading specialist's group).
I used a SMART Board with my small group, which made everyone eager to place pictures, enter text, and stand up to read what we had created.
Final results varied, predictably, by skill level. For some, just learning to navigate the site, drag and drop pictures, and move a cursor were big accomplishments. However, all developed a range of skills much faster than anticipated. Most were eager to read and share their stories with the class and answer questions (making me wish we'd had more time for literary criticism because they loved it).
Their plots were, indeed, messy. They loved them anyway.
Special Needs (with input from Karen Janowski):

Storybird works with Co:Writer word prediction and Dragon Naturally Speaking software.
Storybird is forgiving and flexible; students can easily change, edit, correct, and update their work. Nothing is unfixable, even after you hit "publish."
Spell check may be enabled or disabled (I found many second-graders were empowered and delighted to use spell check).
Reluctant or struggling writers love placing and sequencing pictures. The artwork inspires storytelling.
Older students can collaborate via email on a common Storybird project (swapping turns). Comments may be left on published works (a huge motivator).
Final note:



In March my son was stuck at home with walking pneumonia while I was stuck out of state due to a snow storm. Using Skype with Storybird, however, I was able to babysit him for over an hour, providing respite for my partner. I chose Skype's "screen share" option, and he and I took turns reading published Storybirds aloud to each other (I turned the pages as well as guided him, word-by-word, using the cursor). It was a wonderful way to visit with each other as well as support his learning.

Plus, these days he admits that writing is not the worst part of his day.

-Eliza Anderson, editor, MassMATCH Quarterly

ReThinking: Assignment Notebooks

Accessible alternatives from Karen Janowski
Many districts require assignment notebooks for scheduling homework and long-term assignments. For some students, a paper-based system works effectively. For a variety of reasons, however, not all students are able to independently record homework in an assignment notebook (i.e. difficulty with pencil control, difficulty managing multiple paper materials, unable to use notebooks due to vision or physical disabilities).

The paper IS the disability for these students.

What are alternatives? Thinking creatively, and considering the ubiquitous technology available, here are a few options:

Embed the assignments on the class webpage. Students (and parents) will know where it is recorded which can become part of the home routine.
Use Audio Recordings - If homework is assigned at the upper elementary level, have a student be the Homework Recorder for the day using simple tools such as Vocaroo, Fotobabble, or Eyejot (webcam needed). Or, use Audacity or Garage Band to create a podcast as a record of accomplishments as well as the assignments of the day. Whatever method is used, embed or link it to the classroom website or wiki.
Use a Livescribe SmartPen to create audio recordings which are synched with the text for review at home. Audio recordings can be uploaded to the computer and linked to the class website or wiki.
If you have a mobile device, consider these apps - SmartNote, Fotobabble, Evernote, any audio note app that allows you to embed or send to your students' email list.
Allow students to take a picture where the homework is recorded with their cell phones or iPod Touches.
Low tech - Allow students to purchase their own assignment notebooks - do not require a one size fits all mandated approach
Assignment notebooks can get lost; students can overlook recording an assignment; students may have difficulty reading their own writing due to fine motor issues. When external supports are offered, students with executive skill challenges can flourish. They know (and their parents are grateful that) there is a place where they can find the information they need for success at home.

Keep in mind Toolbelt Theory. We have a responsibility to show students a variety of tools to develop their own toolbelts for use beyond school. Not everyone accomplishes tasks in the same standardized way. Some of us use paper-based organizers, others use cell phones or apps in Smartphones. Offering alternatives helps students develop a system that works for them instead of using a "one-size fits all approach" which may not actually fit.

These suggestions incorporate Universal Design for Learning principles. What is put in place for students with disabilities, benefits all students. Students can be encouraged to purchase the organizer that works best for them, if it is something they need. Some students prefer a daily, weekly or monthly view. One size does not fit all and assignment notebooks do not work for everyone.

Karen Janowski is an assistive and educational technology specialist and member of the MassMATCH AT Advisory Committee. This article was originally published July 27, 2011 at her blog: Teaching Every Student (check out the lively discussion it triggered in the comments!)

Change People's Lives Expo Highlights Human-Centered Innovation
On Sept. 23rd over 1000 people attended the Products and Technologies that Change People's Lives Expo/Conference at the Hynes Convention Center in Boston. Attendees explored products and services from nearly 100 exhibitors, from adapted tricycles and robots to voice controlled computer software and accessible vans.
"There were a few products that really got a lot of people talking," reports Karen Langley, EOHHS director of assistive technology and community supports programs. Among them: the VGo robot which roamed the halls talking to people, a wheel-chair accessible motorcycle from Ride-Away, and the adorable NAO from Aldebaran (a robot used for teaching).
NOA robot by Aldebaran

Langley reports that, in addition to the expo, over 500 people took advantage of conference workshops. "We had people learning about accessible housing, telecommunications, recreation services, really a great range of offerings."


One parent, Randi Sargeant (who is an AT Advisory Committee member) says she was particularly impressed to learn of the variety and number of adapted sport programs available. "It's clear we're really fortunate in Massachusetts."
Ride-Away motorcycle
Winners of the
Change People's Lives design competition
were also announced at the event. The competition invited Massachusetts design students and young professionals to compete for a $5000 prize (donated by the Perkins School) with a product or tech idea that minimizes limitations and enhances living. First place went to Miriam Zisook of Somerville for the Hug Chair (see the article in the sidebar).
"Overall," Langley notes, "it was a really fun event, and got people excited about all the possibilities. And hopefully we've inspired the next generation of innovators to continue making the world more liveable for more people."
Learn more about the event at
www.changelives.org
Get AT Stuff Highlights
GetATStuff--the New England "Craig's List" for AT--currently
has hundreds of items available for sale or free throughout the six New England states.
As of this writing, GetATStuff highlights include:
17 Vision-related items
including a free ClearView CCTV in Peabody, MA!


3 Hearing-related items
including a free TTY in Somerville, MA!


22 Speech Communication-related items


including a Sprinboard communication device for best offer in West Haven, CT


8 Learning, Cognitive, Development related items

including an Erica Eye Gaze System for $1959.00 or best offer in Sudbury, MA.


346 Mobility, Seating, and Positioning related items


including a gait trainer walker for best offer in Framingham, MA.


328 Daily Living related items


including a free bath chair for pediatrics in Peabody, MA


77 Environmental Adaptation related items

including a Hoyer Lift for best offer in Manchester, NH


55 Transportation and Vehicle Modification related items

including a 2000 Dodge Caravan SE rear entry for 1 wheel chair for $13,000 in Quincy, MA.


21 Computer related items

including a fully adjustable computer station for $150 or best offer in Watertown, MA


14 Recreation, Sports, and Leisure related items

including a special needs bouncing chair by Southpaw for $125 in Whitinsville, MA

New AIM Resources for Families and Advocates
Speaking of digital books...

The National Center on Accessible Instructional Materials and PACER Center have published two new booklets for families explaining accessible instructional materials and how they may benefit students with disabilities. A "basics" booklet and technical guide are available to download at no cost, and print copies are also available. Although written for families, both publications contain information that would be useful for advocates, educators, and other stakeholders. The AIM Basics for Families booklet will soon be available in Spanish. Learn more at this AIM Web page.

Educators should also check out the Massachusetts Dept. of Education AIM page for information on providing accessible instructional materials.

New Product Spotlight
Don Johnston, Inc delivers eBooks to students' iPads, Smartphones, and Laptops


Educators and school districts now have a new option to upload, deliver and manage accessible eBooks, textbooks and instruction materials from an online cloud for students to read on their iPads, Smartphones and laptops. Teachers can hop on the Internet, assign reading content, manage large digital files, protect copyright laws and comply with IDEA 2004 to deliver core curriculum in accessible formats. Learn more about Bookstream.

And the Winner is...
Miriam Zisook for The Hug Chair!


The Hug Chair is a modular, adjustable seating system that enables children with physical disabilities to sit comfortably in a variety of settings. It attaches to the picnic style benches found in most school cafeterias. Designed to facilitate inclusion in social settings, the chair is soft, playful and easy to keep clean. It is modular and adjustable enough to grow with the user, and fit a variety of users' specific needs.

The design competition was hosted in conjunction with the Products and Technologies that Change People's Lives-Universal Design and Assistive Technology in Massachusetts event which took place on Sept. 23rd at the Hynes Convention Center in Boston. Zisook was awarded $5000 from the Perkins School, in addition to other prizes, for her entry.

Miriam Zisook receives her award from sponsor Perkins School for the Blind President Steven Rothstein. Juror Tom McCarthy looks on.

Learn more about the Hug Chair and other design competition finalists at the conference Web page.
Beyond the Apps Store!




10 Web pages with apps for special education and adults with disabilities

As the volume of apps for mobile devices explodes, Web sites are cropping up to help us learn, review, and share about them. Below is a selection to help you get started:

1. Apps for Children with Special Needs (a4cwsn.com)

Videos of apps in action to help parents, educators, caregivers and professionals make more informed purchases. The creator is a parent who has also launched an effort to give away 50 iPads in 50 states.

2. IEAR.org; I Education Apps Review
Founded by an education technology specialist, this site has created a community of over 500 educators, administrators, and app developers, including 30 volunteer "educator" app reviewers. Apps are categorized by grade level and tagged by subject. There is also a special education category with 10 reviews so far. A great place to explore (and help grow?)

3. Teach with your iPad
This is a Wiki with a special education page. There are a lot of educators out there creating Wikis to share education technology advice and this is one of them.



4. Mobile Learning for Special Needs

Founded by a special educator, this Wiki includes 140 iPad/iPhone apps organized by category in addition to articles, video case studies and captioned video tutorials on devices.

5. Moms With Apps: special needs page

An online catalog of apps created by family-friendly developers.

Beyond Special Education...

8. iPhone/iPad Apps for Magnification and Vision Support

9. iPhone/iPad Apps for Literacy Support

These link to large spread sheets explaining, comparing, and reviewing apps! The AAC page sorts apps with symbols/pictures only, apps with symbols and text-to-speech, and text-based-only apps. The Vision page sorts apps by magnification and other vision support. The Literacy Support sheet is more of a listing only. They are provided by the Spectronics Web site--a supplier of inclusive learning technologies in Australia and New Zealand.

10. AAC TechConnect free tools page.
AAC apps reviewed and sorted by those with pictures and those with spelling. Also a good place to look at dedicated AAC devices with manufacturer support!

Happy searching!

Product Spotlight:
The Kid's Project
Adjustable Corner Sitter. "Sitting on the floor to play with blocks or to color is part of being a child.".


Affordable easels, incline boards, adjustable desks, adaptive classroom chairs, corner sitters (support for sitting on the floor with everyone else), adaptive preschool toys, and more can be found at The Kids' Project, a program of the non-profit Pine Tree Society.


The Kids' Project adaptive equipment is comparable to top of the line adaptive equipment at 40-75% below commercial prices, providing more opportunities for greater success for children with special needs.

Their high-quality adaptive equipment is made by volunteer woodworkers and upholsterers. Find them at the Pine Tree Society Web site.

Reminder: MassMATCH and the U.S. Dept. of Education make no endorsement, representation, or warranty expressed or implied for any product, device, or information set forth in this newsletter. Neither MassMATCH nor the U.S. Dept. of Education has examined, reviewed, or tested any product or device referred to in this newsletter.

School Success!
How an AT Regional Center Helped Mark Communicate



"Mark" looks up to his older brother in college, and wants to be like his peers. But at school he had been trialing large and clunky communications devices for two years. The school was dragging its feet to make a decision for what to purchase and part of the problem was that nothing they tried had really worked. Mark, who has autism, required prompting to use the core communications or type-to-speak devices. Yet at home Mark used a computer and generally loved technology.

Frustrated, Mark's parents brought him to the ATRC where Center Coordinator Dawn Matthews saw at once that Mark needed a device that would engage him. Considering his dexterity and cognitive capacity, she recommended the iPod Touch with Proloquo2Go software. At school Mark was very interested in peers with iPod Touches, and she suspected he would be excited to have the same thing they had.

At first Mark's parents were intimidated by the Touch. They were not comfortable with new technology and they feared they would not be able to help make it work. During the device loan trial, however, they quickly came around.

With the iPod Touch Mark needed minimal prompting. He loved his new device. It was not only what his peers had, it also played games and his favorite music. For his parents this meant they could use the device as a reward. The time Mark spent communicating and learning meant time Mark earned for games and music. At school, too, Mark's Speech Language Pathologist saw advantages for this device that not only cost far less than the other options, but could be programmed with educational games in addition to a more engaging communication display.

The best part for Mark's parents, however, was the free tech support: their older son also has an iPod Touch and they realized they could just call him whenever they had questions! Today Mark has his own iPod Touch, just like his older brother.

Educators check out:
6 Great Ways to Use Your AT Regional Center (ATRC)

Upcoming Events
Let's Go Technology with Scott Krug
Come see and try some new low vision and magnification devices, both handheld and desktop.
Oct 12th (Wed)
12pm to 2pm and
Oct. 17th (Mon)
9:30 am-1pm
AT Regional Center:
UCP of Berkshire County
208 West St
Pittsfield, MA
RSVP Dawn Matthews

Discover Conference
for families of school-age children who are blind, visually impaired, or deafblind (including those with additional disabilities).
$25.00
Oct. 22nd
9 am to 3pm
Grousbeck Center for Students and Technology
Perkins School for the Blind
175 North Beacon Street
Watertown, MA
Contact Dorinda Rife

Veterans Day Open House: Perkins School for the Blind
Learn about on-campus and community programs. Free.
November 1
10 am to 1pm
Also at the Grousbeck Center (above)
Contact Dana Guthrie

Technology Fair
Carroll Center for the Blind
Nov. 22nd
9 am to 3pm
Try out and learn about the latest products for individuals who are visually impaired. Free.
Rachel E. Rosenbaum Technology Center
770 Centre St
Newton, MA
Learn more at this Carroll Center Web page